Diddily Dee Dot's Dreamland for Children Everywhere
Donna's Diner

DONNA'S DINER

Opening Times.
Monday............ 7.30am   to   7pm.
Tuesday ........... 7.30am   to   7pm.
Wednesday.......  6.30am   to   7pm. - Market Day
Thursday ......... 7.30am   to    2pm. -  Half Day
Friday..............  7.30am   to   7pm.
Saturday .......... 6.30am   to   4pm.
Sunday ............ Closed all Day.



WELCOME TO DONNA'S DINER      

The Tea Party
The Crabs of Sea-weed Villa
Were friendly as could be;
Their neighbours they invited
One afternoon for tea;



I think I will add this very strange little poem to begin a new day in
Donna's Diner it is called,
Dance Potatoes Dance

Wild and dashing potatoes frolic over the fields in May
in garish two-tone Wellington boots and sou'westers padded with hay.
Beware the bulbous rhizomes song that calls to vagrants gay
for should you yield to their amourous pleas
they'll whisk you away for twelve months and a day!


Once I knew a merry maid who wandered in the yellow meadows
and spying from afar the potatoes dance, followed them into the greenwood's shadows.
Her brothers they searched the hills far and wide
and dragged in deep pools and in shallows
but found ne'er a trace of their sister most dear nor spoor of potato she'd followed.


When, nine months later, she finally returned home,
she carried a little potato child that looked like a wizened old gnome...
So parents guard well your wandering sons and curious daughters most fair
and should you hear the wild songs of potatoes in May
clap hands to their ears and let them not stare
- the well-padded rhizome has keys to old doors
that lead to strange apples and pears!
Once they have danced with their jacketed flesh they'll lose all desire for carrots and tares
and should you then force them will curse you and swear,
craving odd crops with luminous roots
and strange eastern yams with twelve sets of boots.

The fruits of the earth will be as dry dust and apricots taste like wet card;

their teeth will develope strangest tastes and sugar seem cold, damp and hard.
The curious song of the tatties of Eld will compell them to wander in trance
whilst potato hands fling them up and aloft in abandoned vegetative dance
(I hear they have similar problems with onions in France).

What price (I ask you) the wisdom of ancient potatoes?
what price the love of an old wizened gnome?
Let men cleave to women and women to men,
to knitting, to hearth and to home.
 DONNA'S DINER WOULD LIKE TO GIVE YOU SOME IDEAS
FOR THE CHILDREN'S LUNCH BOX
Thanks once more to Kaboose.com


The Mid-day Lunch Box
As you pack up your child's lunch-box, take the opportunity to pack in nutrients as well. Two important goals for ensuring your child eats a healthful lunch:
• Include as many food groups as you can as whole, unprocessed foods. • Make it as appealing as possible, both visually and tastefully (an uneaten lunch isn't doing anyone any good).
Here are eight healthy lunch ideas for your kids that we can (almost) guarantee will be devoured happily. Each meal has 400 to 500 calories and provides at least a third of a day's fiber and protein needs. If you have a very active preteen, you may want to add an extra snack or increase the portions since their energy needs are higher.
Lunchbox 1
• 

Whole

wheat English muffin with tomato, a fresh mozzarella cheese slice, and basil • Hard boiled egg • 100% Fruit leather • Fruit/vegetable juice

blend
Healthy highlight: Did you know that eating an egg a day, if your cholesterol levels are normal, is perfectly okay? In fact, eggs are an excellent source of protein. They are considered the gold standard because they contain all of the essential amino acids (building blocks) necessary for the body when making its own proteins for various functions. The yolk is also a rich source of lutein and choline, two compounds that have been found to benefit eye health. It is also one of the few natural sources of vitamin D, an important nutrient in proper bone development.
Helpful tip: If you can't find a 100% vegetable and fruit juice blend, you can make your own by combining a half cup of low-sodium tomato or carrot juice with a half cup of orange, apple, or pineapple juice.
Nutrition facts: 410 calories, 12 g fat (5 g saturated fat), 18 g protein, 8 g fibre
Lunch-box 2
Turkey breast on whole wheat bread, with 

lettuce, tomato, and honey mustard • Broccoli florets with low-fat salad dressing • Pear • Bottle of water
Healthy highlight: Broccoli is naturally rich in sulforaphane, a plant nutrient that has been found to protect against a variety of cancers. Each serving is also an excellent source of vitamin C and vitamin K, important for maintaining immunity and bone health, respectively.
Helpful tip: If your child doesn't like 100% whole wheat bread, use one of the new whole wheat white breads with at least 2 grams of fibre per slice.
Nutrition facts: 480 calories, 10 g fat (2 g saturated fat), 21 g protein, 15 g fibre
Lunch-box 3
• Whole grain crackers (one brand we like: Rivita) • Low-salt ham • Low-fat Swiss cheese • Sliced olives (optional) • Sliced strawberries • Chocolate milk
Healthy highlight: If you're concerned about giving your child flavoured milk rather than plain milk, don't be. Studies show that kids who drink flavoured milk don't have higher intakes of added sugars than children who don't consume flavoured milk.
In fact, in the 2005 Dietary Guidelines for Americans, nutrition experts noted that flavoured milks were found to be much more beneficial than harmful thanks to the contribution of calcium, potassium, and magnesium in the milk. Bottom line: If your child won't drink white milk, it's much better to give him the flavoured varieties than none at all.
Helpful tip: For a healthier take on a prepared lunch kit, use a sectioned container and place thinly-sliced 2" squares of each item in the sections so your child can build his own stacks.
Nutrition facts: 480 calories, 13 g fat (6 g saturated fat), 28 g protein, 8 g fibre
Lunch-box 4
Whole wheat pita with
chicken salad (grilled chicken breast, cubed, mixed with light
mayo) • Grapes Coleslaw • Milk • 
Healthy highlight: 1 1/2 cups of grapes contain about 90 calories and provide an abundance of the plant nutrients, resveratrol and pterostilbene, which have been found to maintain a healthy heart by lowering cholesterol levels.
Helpful tips: For children under age 4, cut grapes in half. You can also toss a few quartered grapes into the chicken salad for a sweeter take on the classic.
To make coleslaw: Pour a 16 oz. package of pre-shredded cabbage and carrots (often sold as coleslaw mix) in a large bowl. In a small bowl, stir together 1/2 cup light mayonnaise, 1 Tbsp vinegar, 1 Tbsp milk, and 1 Tbsp sugar. Toss dressing with coleslaw mix and refrigerate an hour or more to blend flavours.
Nutrition facts: 470 calories, 8 g fat (2 g saturated fat), 35 g protein, 8 g fibre
• Whole wheat pasta salad (fresh baby spinach, grape tomatoes, green pepper, chick peas, light Italian dressing, and shaved Parmesan cheese) • Peach • 3 Dark Chocolate Hershey's Kisses or 1 Hershey's Extra Dark Square • Bottle of water
Healthy highlight: If your family loves chocolate, then bring them over to the dark side. Dark chocolate has more cocoa in the chocolate, it contains flavanols, a plant compound found to promote healthy blood pressure and blood flow in the skin, heart, and brain.k

Even if you think your kids are milk chocolate lovers only, give dark chocolate a shot. I find that my children are quite willing to eat the dark chocolate just as readily as milk chocolate.
Helpful tips: If your kids don't like 100% whole wheat pasta, look for a whole wheat pasta blends, such as Barilla or Ronzoni, made with at least 50% whole wheat flour. You can also make your own by just mixing half a box of whole wheat pasta with half a box of regular pasta.
Nutrition facts: 435 calories, 12 g fat (5 g sat

There you go one Lunch-box for each day of the week. Very little cost, loads of  nutrition and very good food for playing swaps with. Especially if the children who they eat with have boxes that are as good.
DONNA'S DINER
in Dreamland
Chunky Monkey Pancakes
Photo by: Allrecipes Photos

Recipe provided by:     crazycatlady

I love banana pancakes and my daughter loves chocolate chip pancakes, so we came up with this yummy recipe to make us both happy!


Ingredients

DONNA'S DINER AT DIDDILY'S DREAMLAND

It has been ages since we popped into Donna's Diner, at least
six months I'm sure. Well I have just put a really good video playlist below, great cooking and really easy to follow recipes.
But before then here are a couple of Easter recipes you might like to make for Mummy.

Original Kaboose.com recipe and photography by Christina Stanley-Salerno
Shakes are a great way to get the kiddos to drink their milk. Chocolate and banana is a combo that both kids and adults can't resist.  Serve this with a thick straw so that they can slurp up all of the chunky chocolate pieces.

Ingredients

2-1/2 cups milk
1/2 cup tablespoons chocolate syrup
2 frozen bananas
1/4 cup semi sweet chocolate chips


Cooking Instructions

Place milk, chocolate syrup, bananas and semi sweet chocolate into a blender. Blend until smooth (about 2 minutes). Pour into glasses and serve with a bendy straw.

Substitution(s)

Swap out the chocolate syrup and chips for some fresh berries.

Tips & Tricks

Pour this mixture into Popsicle molds and make smoothie pops!




Blueberry Baked French Toast Casserole

Original Kaboose.com recipe and photography by Christina Stanley-Salerno

This blueberry filled casserole makes a great brunch recipe for a perfect holiday morning or any time you want to celebrate.

Ingredients

6 slices of sturdy, thick-cut white bread (about 1-inch thick)
2 teaspoons butter, for pan
8 large eggs
3 cups milk
3 tablespoons brown sugar
1 teaspoon vanilla extract
1/2 teaspoon ground cinnamon
1/2 tsp salt
1 cup blueberries
1/2 cup maple syrup


Cooking Instructions

Butter a 9x13-inch baking dish. Arrange slices on the bottom of a 9x13-inch baking dish, overlapping the slices.
In a large bowl, combine the eggs, milk, sugar, vanilla, cinnamon and salt. Whisk until blended but not too bubbly. Pour mixture over the bread slices, making sure to cover the bread evenly with the egg mixture. Gently press down bread to insure that bread is fully submerged. Sprinkle blueberries evenly over the top. Cover with foil and refrigerate for 5 hours or best overnight.
Preheat oven to 350 degrees F. Bake for 40 minutes, until puffed and lightly golden. Serve with maple syrup.

This is just so yummy, I tried this as soon as my Kaboose came in my mail box. Fantastic.
WELCOMES YOU WITH SOME SPECIAL
 RECIPES FOR CHILDREN
DONNA'S KITCHEN

BANANA
ICE
LOLLIES
T
hese are special banana ice lollies, that the children can make all by themselves....
(well maybe with a little supervision from an oldie.)
I found these pics on google, they might help you decide what to choose.
1.           4 banana's (nice firm ones)
2.          A medium bar of good chocolate, or two or three.
                (depending on what colour you choose to use.)
3.         10 flat lolly-pop sticks

,

(a couple extra incase of accidents.

)
      




Coating


a.           dessicated coconut.
b.           chocolate vermicelli.
c.            coloured sugar strands.


These are just idea's maybe you can come up with different ones of your own

.
METHOD
1.            Cut the bananas in two across the middle.
2.           Melt the chocolate in a bowl in the Microwave (1 minute at a time)
               Don't mix the chocolate, though you could use two colours on one banana.
3.           Pop a lolly stick down the centre of the half banana.
4.           Pop some of your coconut, etc. into a paper bag and after dipping the banana into your choice of chocolate, dip the  whole into the paper bag and cover the chocolate before it sets.
5.           Pop the coated banana's on a tray  and place in the freezer until frozen, about two hours should do it.


Here is another lovely Recipe I found while looking through
Google
Images A Banana Tart
Thank you Pink Bites.
 www.pinkbites.com/2009/07/banana-and-chocolate tart..
These wonderful images and recipe come from PINK BITES. the web url is below

www.pinkbites.com  /2009/07/banana-and-chocolate tart..
You will need:
A TART SHELL, 9inch, either home made (bake blind)or bought from the super market.

4 oz of chocolate, Dark,  Milk or White, use good chocolate

1/4 cup of cream or half cream/half milk

3-4 ripe bananas, depending on their size
1/2 lemon
2 tablespoons of  brown sugar
Method

Preheat oven to 375 degrees.
Heat the cream until just below boiling point. Pour it over the chocolate and stir until you get a smooth consistency.

Let it cool.
Peel the bananas and half them lengthwise. Squeeze the lemon juice over the bananas and sprinkle over the sugar.

Spread the chocolate sauce on the bottom of the tart shell and top it with the bananas, cut side up, forming a circular pattern.
Bake it until tart is golden brown and bananas are soft, about 30 minutes.
Serve warm by itself or alongside some vanilla ice cream.
Enjoy it!
Possible variations:
Sprinkle the bananas with some chopped peanuts or walnuts half way through baking.
Place a layer of shredded coconut between the chocolate and the bananas,
(remember to warn of nut content.)
Use cinnamon-sugar instead of the brown sugar.
If Pink Bites don't mind, I think I would pipe some spray cream down the middle of the bananas, any colour.
(Not if your dieting :)

DONNA'S KITCHEN

While looking through my stumble upon blog sites I came across this wonderful cookery site. It is from Portugal and all the recipes are really lovely, especially the biscuits or cookie pages, The full recipe for this wonderful picture come cake is made from chocolate brownie cake mix, that you can make or buy from any big supermarket. The Smarties are there (remember to discard the blue ones if you have hyperactive offsprings,
) I suppose M&M@s or Chocolate buttons could be used, a lollypop and the tiny vermicelli white stars and green stars. (Don't do what I did and buy mixed ones, took me aged to sort out the geen and white,
)
The address for this site is :-

pedidos@thecookieshop.com.br
and from there you can find not only these wonderful cookie recipies,
 but a twitter for you to go to numerous places.  Do enjoy your selves, wonderful.

 THE RECIPE  TO MAKE SOME GULAB JAMUNS,
THAT WE READ ABOUT IN

"THE MYSTERY OF THE MISSING GULAB JAMUNS"
I have copied the story on the pages of "Hopscotch."

 AND WHICH WAS FIRST PRINTED IN "DIMDIMA" a wonderful childrens paper, sent to you from India. edition October 2008.
THE RECIPE IS FROM:
Samaithu Paarkalaam
Recipes from Tamilnadu to Tex-Mex from my kitchen with love

Jammin' with Jamuns.


½ cup          All purpose flour
½
  tsp           Baking soda 
2 tbsp              
Melted butter 
Salt               pinch
Milk       to make a medium stiff dough
Syrup

: (make it earlier and keep warm)
1½         cups of sugar
1             cup of w
ater
Cardamom - crushed seeds of 2 pods
Oil to fry
Method:
1.
Combine the sugar and water in a pan. Heat until the sugar dissolves. Then, add crushed cardamom and remove from heat. (The syrup should be slightly warm when adding jamuns.)
If you like more syrup, just make 1.5 to 2 times the amount stated in the recipe.
2.
Heat oil on medium heat. As the oil heats, combine flour, milk powder, baking soda, salt, and butter. Slowly add milk to make a m
edium stiff dough. Take small pieces of the dough (about nutmeg sized) and roll into balls. (Note: Keep in mind that the dough will expand and enlarge on hitting the oil, so make the balls smaller than you want the end size to be!) Keep the dough balls aside, covered with a slightly damp cloth to prevent them from drying out.
3

. Slowly, slip the balls into the warm oil. You may need to fry them in 2 batches, depending on the size of your pan. Gently and slowly, shake the balls around in the oil to cook them evenly. When they are golden brown and rise to the top of the oil, remove them and allow them to cool until just slightly warm.
4.
Add the cooled balls to the warm syrup.
Allow the flavours to develop in the refrigerator for 24 hours before serving, for best results. Warm jamuns before eating and enjoy every luscious bite!

THE BANANA BOAT SONG
Day-o, Day-ay-ay-o
Daylight come and me wan' go home
Day, me say day, me say day, me say day
Me say day, me say day-ay-ay-o
Daylight come and me wan' go home
Work all night on a drink a' rum
Daylight come and me wan' go home

Stack banana till the mornin' come
Daylight come and me wan' go home
Come, Mister tally man, tally me banana
Daylight come and me wan' go home

Come, Mister tally man, tally me banana
Daylight come and me wan' go home
It's six foot, seven foot, eight foot BUNCH!

Daylight come and me wan' go home
Six foot, seven foot, eight foot BUNCH!
Daylight come and me wan' go home
Day, me say day-ay-ay-o

Daylight come and me wan' go home

Day, me say day, me say day, me say day...
Daylight come and me wan' go home
A beautiful bunch a' ripe banana
Daylight come and me wan' go home
Hide the deadly black tarantula
Daylight come and me wan' go home 
It's six foot, seven foot, eight foot BUNCH!
Daylight come and me wan' go home

Six foot, seven foot, eight foot BUNCH!
Daylight come and me wan' go home
Day, me say day-ay-ay-o
Daylight come and me wan' go home

Day, me say day, me say day, me say day...
Daylight come and me wan' go home
Come, Mister tally man, tally me banana

Daylight come and me wan' go home
Come, Mister tally man, tally me banana
Daylight come and me wan' go home
Day-o, day-ay-ay-o

Daylight come and me wan' go home
Day, me say day, me say day, me say day
Me say day, me say day-ay-ay-o
Daylight come and me wan' go home
Would you like to put some music on the Juke Box! whilst you look what Donna's Diner has to offer you today.

Coffee Punch

5 cups hot coffee,1 pint of vanilla ice cream/ice milk
1 pint chocolate ice cream, 1 teaspoon creme de cacao

In a meilley phuinsh: punch bowl, pour coffee over ice cream. Beat lightly until partially melted. Add creme de cacao. Pour into punch glasses; sprinkle with nutmeg.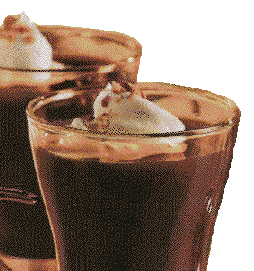 Anchor Hocking Party Starter Punch Recipe Book © 1971
Lammas Ubhal:
Lambswool: Apple Punch
2 quarts hot milk, 8 apples, 1 cup of honey

Preheat oven to 180°C: 350°F. Bake apples in a shallow glass pan for 40 minutes until soft. [or roast them over a fire suspended on strings]. Squeeze pulp from apples, discard skins, fluff purée with fork. Heat milk, add apple purée, honey.
Peppers and Sausages with Pasta
Ingredients:
pasta,
6 spicey sausages,
1 onion, 2 garlic cloves,
1 red pepper, 1 yellow pepper,
paprika, tabasco,
1 tin chopped tomatoes,
150 ml vegetable stock
Boil the pasta in boiling water with some salt until al dente.
Bake 6 spiced sausages until the sausages are brown.
Scoop the sausages from the pan and keep warm.
Bake in hot oil 1 chopped onion and 2 finely chopped garlic cloves (optional)until the onion has softened.
Then add 1 chopped red pepper, 1 chopped yellow pepper, paprika (after own taste) and some tabasco .
Stir fry a minute or 5.
Then add 1 can diced tomatoes and 150 m vegetable stock.
Let it simmer for about 10 minutes on low heat.
Add the sausages and heat a bit more.
Serve with pasta, garnish with parsley and sliced peach.
Use Cauldron or Quorn sausages to make a vegan or vegetarian dish.
On Top of Spaghetti

(On Top of Old Smokey)



On top of spaghetti,
all covered with cheese.
I lost my poor meatball,
when somebody sneezed.

It rolled off the table,
and onto the floor.
And then my poor meatball,
Rolled out of the door.

It rolled in the garden,
and under a bush
And then my poor meatball,
Was nothing but mush.
The mush was as tasty,
as tasty could be.
And early next summer,
It grew into a tree.

The tree was all covered
with beautiful moss.
It grew lovely meatballs
and tomato sauce.

So if you eat spaghetti,
all covered with cheese.
Hold on to your meatballs,
and don't ever sneeze.
CHOCOLATE CHIP COOKIES FOOR KIDS TO MAKE
Ingredients
125g butter sugar.
175g brown sugar.
1 tsp vanilla extract.
1 tablesp milk
& 1 egg (beat well together)
175g plain flour
200g bar plain chocolate. (chopped into small pieces)
(or buy small packet  of chocolate drops for cookies}
1.   Cream 125g buter with 175g brown sugar.
2.   Beat until fluffy. Add 1 teaspoon vanilla extract,
3.   Add the milk and beaten egg.
4.   Add 175g plain flour and 1 teaspoon baking powder and beat to combine.
5.   Break 200g plain chocolate in little chunks and spoon it into the batter.
6.   Line a tray with baking paper and drop 1 tablespoon batter on the tray.
7.   Leave about 3 cm space between the cookies.
8.   Place the tray into a preheated oven 160C (fan) for about 20 minutes.
9.   Get the cookies out of the oven and place them on a wire rack to cool.

              Home Cooked Spagettie Bolognaise


Home Cooked Steak and Kidney Pie

.

Two Sausages, with one egg and tomatoes or Beans.


2 Quorn Burgers/ 2 Quorn Fillets
              Cod, chips/salad and peas/beans

Plaice, chips/salad and peas /beans
Baked Potatoes with variety of fillings.
All served with a portion of chips  or salad
A slice of bread and butter
and cup of tea/coffee with order.

Childrens portions available

cold drinks and ice creams


ALL DAY BREAKFAST's
and SUNDAY ROAST
Served all day, every day



Now here  are some lovely delicious Pizza to make-:

Pizza
You will need a two 8 inch Pizza Base

Stonebaked Pizza Base with Garlic, very nice (Tesco)

(unless you have a cool way of making the pizza dough, if so then go for it.)
Tomato & Herb Pizza sause
 or can of chopped tomatoes, add your own herbs.

A choice of toppings as suggested below:
 A large piece of Pepperoni    
4 Mushrooms
A small can of Pineapples
        4 slicesHam
Coloured Peppers, (If you like them)
Cheese, different types are nice.

Peel the mushrooms and slice them, then cut the ham, pepperoni, pineapple etc and grate loads of cheese.

Do be careful with the grater and the knives, ask mumy for help if you don't think you can do it yourself.
I think it is always best to make two Pizza's that
way every one can have a choice.


If you have your own Pizza dough,
you can make little 4 inch round pizza's with lots of toppings
Here are a few alternative toppings.
Tuna, onions, sardines, tomatoes, pork slices, chicken, marmite.
Just
about everything goes to make a delicious pizza.
Then all you do next
is, take one pizza, spread the top with tomato puree or chopped tomato then place whatever you want on top as the topping.
Cook for about  15/20 minutes at 220°C or until the cheese is golden brown.
Get a grown up to take them out of the oven and leave them to cool on a wire tray for a few minutes, we don't want you to burn your tongues.
Why not turn the sleep-overs into a bit of fun by letting the kids make
themselves a pizza each for their supper. Maybe a jelly to follow.

FOOD GLORIOUS FOOD.
Yes that's the title Diddily's given the Diner's picture show.
Donna came with me to the Youtube website to pick them all out.
Oh my it took some doing I can tell you.
It must have taken us about four hours altogether,
but so long as you all enjoy them that is all that matters.
Don't forget to ask Donna for some popcorn and squash
You will need a few slices of bread,  white and  brown
 A filling that you like,  jam, cheese spread, meat-paste, fish-paste, sandwich filling even chocolate spread and peanut butter. Yummy, yummy.
Small pieces of carrot and  angelica
Trim the crusts off the bread and then spread your chosen filling so that it covers one side of the slice completely.
Carefully roll up the bread until you have a log shape,
Then the best thing to do is read the following and look at the pictures, of course you could mix and match the bread, white on one side and brown on the other,
you
can then slice into pieces
about 3cm thick.
Stand the bread rings on their sides with the edge of the bread just poking out from the bottom, as shown above, you can then add some small pieces of either carrot or angelica to make the stalks for the eyes and antenna.
Place the snails on a bed of chopped up lettuce, with some grapes and apples and tomatoes to look like a garden.
Another idea is to buy some of the miniture swiss rolls and do the same with them as a dessert, only stand them on a bed of fresh fruit, apples, pears, grapes etc.
Something else the kids can make for their midnight feast.
Banana Muffin Recipe
 (makes 12 large muffins)

Ingredients
2 cups plain flour

1 tsp baking powder
1 tsp baking soda
1/2 tsp salt
(optional)
4 ripe bananas, mashed

2/3 cup granulated sugar
 
           1 egg & 1 egg yolk, lightly beaten
           1/2 cup butter, melted
1/3 cup coarsely chopped walnuts (optional)

Method
1. Preheat oven to 190 degrees C. Line a 12 cup muffin tray with muffin cups or grease lightly with butter.
2. Sift the flour, baking powder, baking soda, and salt  into a large bowl.
3. In another bowl, beat the mashed bananas, sugar, eggs
and melted butter together.
4. Stir the banana mixture and walnuts into the flour mixture until just combined.
5. Divide the batter into the muffin tray.
6. Bake in preheated oven on the middle rack for 20 minutes or until
golden brown and a toothpick inserted into the centre of a muffin comes out clean.
Buttermilk Biscuits

1/4 cup shortening
1/4 teaspoon baking soda
2 cups self-rising flour
3/4 cup buttermilk

Cut shortening into flour.
Stir soda in milk and pour into flour and shortening.
 Stir until well blended.
Pour out onto a floured surface and knead 12 to 15 times.
 Roll out and cut.
 Place on a baking sheet and bake at 450 degrees F. until brown.


I must thank the
Gingerbread Man Unit
for this lovely recipe to make
to accompany the story on Homepage our
Gingerbread Man
(and woman)
²/³ c. flour

1 ¼c. sugar
2 tablespoons molasses
2 eggs
2 tablespoons vinegar soured milk
1 teaspoon soda
3 c. flour
1 teaspoon salt
1 teaspoon baking powder
1 teaspoon cinnamon
½ teaspoon ginger
½teaspoon nutmeg
1. Cream shortening and sugar.
2. Add eggs and molasses.
3. Add sour milk in which soda has been dissolved.
4. Add dry ingredients.
5. Slightly grease big cookie sheet.
6. Children add chunks of dough to create GB man shape.
7. Decorate with candy and raisens.
8. Bake in 375º oven about 15 minutes.
http://www.nhm.ac.uk/visit-us/whats-on/ 
 Become a Member - photograph of the Natural History Museum


With exhibitions, talks, workshops and events, Membership gives you a great selection of benefits and privileges.
It is the best way to enjoy an ongoing relationship with the Museum and its dynamic environment.

From free admissions and subscriptions to generous discounts and special benefits, the advantages of Membership include:


    * free quarterly magazine for adults, Nature First
    * free quarterly supplement for children, Second Nature
    * free entry to most Member events
    * free admission and fast-track entry to exhibitions, such as Wildlife
    * 10 free guest tickets to exhibitions
    * 10% discount in most of our shops and restaurants, and 20% in the Museum Shop during certain times and events
    * private Members' Room with free refreshments, magazines, internet access and a TV with a selection of natural history videos
    * free cloakroom
    * behind-the-scenes tours to meet our experts
    * email updates on events and exhibitions

Your subscription fee helps support the vital work of our scientists, many of which are leaders in their field. From Africa to the Antarctic, disease to deep-sea fish, our research is carried out worldwide and its impact is far reaching. Photographer of the Year
Print version
Amazing Butterflies coming soon promo
More information - Related information

Become a Member - More information
Contact us - Membership
Natural History Museum
Cromwell Road
London
SW7 5BD
UK
Tel: +44 (0)20 7942 5792