Diddily Dee Dot's Dreamland for Children Everywhere
Tilly Teapot
        T
he door
o
f Toby's bucket house burst open and in bustled Tilly Teapot, with little Sweetie pie following behind her
.



 "

Goodness me!" said Toby jumping up from the table, almost knocking his coco-pops onto the floor

.


"W

hat is the matter Tilly?" he said pulling a chair out so she could sit dow

n

.


"A

nyone would think you had a boogie man after you

!

W

hat on earth has happened.

"




        Tilly sat down and took the cup of tea Toby had poured for her. Slowly, very slowly she caught her breath and started to drink her tea

.


"Oh Toby, Toby," she said

.
 "Here read this." and she pressed a piece of paper into Toby's hand.
He read it out  loud;

"Ivor will be returning over the May Day Bank Holiday Weekend.
 Come along and meet him!"

          "Goodness me! he exclaimed, "what do you think, shall we go?" A huge smile spread across his face.
"Well of course," Tilly said, draining her teacup, "but we will have to set off very soon if we want to get there early."
Toby frowned and looked down at the paper again. "Oh my goodness, (It was definitely a Toby  'Goodness' day." It is due to start at mid day."
"I know! I know! Tilly exclaimed. "How long will it take us to get there?

     Toby frowned and went to the cupboard for his map book. The two of them stood over the table for a few minutes.

"Come on then, we better get ready. Don't forget to bring Sweetie Pie's collar and lead. oh yes and a towel, incase it rains later." Toby smiled and Tilly headed for the door.
Sweetie Pie had made herself comfy next to Candy, as soon as the words 'collar and lead' were mentioned.
"Can you be ready in an hour Till? I have to take the fishing tackle out of the Rover, get myself ready and we can be off about ten-ish"
"No problem," Tilly said a big smile on her face. "If we're ready soon enough, we could go over World's End. What do you think?"
"I think that is an excellent idea, now shoo go get yourself ready." And he shooed Tilly out the door, picked up his keys and went to clear out the Land Rover.

        Toby and Tilly were that used to just taking off, it never took them long to get ready at all, and by 10.15, they were in the vehicle, and driving up the road to Coedpoeth.
   Candy and Sweetie began by arguing who was first to hang their head out the window. Sweetie won, as usual. They weren't allowed the outside
window opened, because of the  passing traffic.
Tilly began to sing, 'the wheels of the bus," and they were on there way to see Ivor the Engine in Llangollen.
 
"Part two after the usherette has been round with the ice cream and lolllies.
I think I shall have me a White Magnum. Yummy I love them, what are you having?"

diddilydeedotsdreamland .


These are the stories of IVOR THE ENGINE. Yes children he really did exist. He lived not far away from Seligor when she was a little girl, and I know that my three brothers and sister were great fans of this little ENGINE CALLED IVOR. Of course, in Welsh the name Ivor is written as Ifor, which is pronounced Evor, all very strange. But then so is my Seligor.
I do hope you enjoy these little stories. You might know of Oliver Postgate, it was him who wrote the book's as well as many other cartoon characters that you see around today. I know I have an idea.

OLIVER POSTGATE left this world a few months back, he thought it was time they had some new stories and films in the hooses of Heaven. I am sure he would be really pleased for us to dedicate this video show to him and say a big thankyou for all the pleasure he has given us. xxx THANKYOU OLIVER xxx

Over the Easter weekend, we were pleased to be able
to host the UK's first official apprearance of Ivor the Engine. Ivor is a specially overhauled locomotive, that has been re-built to represent the favourite childrens character. Unfortunately, Ivor was not able to steam over the weekend. The good news is that Ivor is due to return to us in July, when he will hopefully be able to pull trains.

Dodies dream world

Chapter Two

Well what did you think of Ivor the Engine, I was wondering if any of you ha
ve been on the little train that goes up Snowdonia in Gwynedd North Wales. It's not far from Blaenae Ffestiniog where the Coal mines are open to the public as well. I remember my first visit with the school. I do believe you don't have to dig for coal now, that you can pay for your ride into the caverns.
So where were we, oh yes singing the wheels on the bus with Tilly and Toby and oth Candy and Sweetie hiding under the car blanket, cos the noise was so bad.
"Toby, how much further is it to Llangollen, it looks an awful long way in this map book?"
"That's because it is a big scale, that's all." Toby grinned. "We will only be about another ten minutes and then you will be able to see the town."
"Oh gosh, I am so excited. I love to see the old steam engines, all those puffs of steam going up into the clouds, oh it's beautiful Toby, really beautiful."
    
Tilly leaned back in her seat and closed her eyes to the beautiful scenery that they were diving through, she was soon dreaming of Ivor. Toby carefully steered the Land Rover, making sure not to go over any big bumps. On his left the trees were growing tall and he knew that it wouldn't be long till they hit the T junction.
      And there it was right to go towards the Horseshoe Pass, and left to go into the town of Llangollen and the railway station. He indicated to go left, they would be going back over the Pass but not until they had seen Ivor the Engine.

They were going to be early and Toby was pleased because it meant they could eat their picnic that Tilly had put together and take Candy and Sweetie for a quick walk and a wee!
Tilly woke up just as Toby pulled into the layby by the park. Putting the leads on the dogs, then picking up the poopper scooper and some paper they went through the gate and along the path were the bins were to dispose of any accidents.
Then when the dogs had enjoyed a small walk they went into the main park and sat a a table to have their picnic.
    
  "Oh yummy," Toby said as Tilly started taking all good things out of the basket. Toby reached acroos and opened the flask. It all looked just right and would you believe it, Tilly had even made sure to add some spare chicken and good things, (chewy stuff) for the dogs. Their tails wagged like mad and candy even had the cheek to bark at a little Snoopy dog, left his own picnic and wanted some of his chicken.
Little divil.
       "What time is it Toby, I remembered everything else but forgot my watch." She laughed.
 "Time we were putting everything away I think. Come on you two," he said to the dogs. "Back to the Land Rover with you." It wasn't long till the dogs were back in the vehicle and Toby had found a parking place near to the railway line. Soon they were sitting on the platform  waiting for mid-day to arrive and Ivor the Engine with it. Tilly bought a couple of postcards so they could send some to their friends in England and Sara Salt up in Scotland.
Do you like them, here is one of Ivor the Engine and how he has been rebuilt so the children of today can see him for real again.


Although at first sight this is a side tank loco, it is in fact  a typical Peckett saddle tank but with cosmetic side sheets built down to the running board.
 With additional whistles and other details, this permits the loco to masquerade as the fictitious

'Ivor the Engine' – M&LRTC Ltd signifies MerionethLlantisilly Rail Traction Co. Ltd. &
 Following a complete refit and overhaul the loco is a lively performer despite her size.
 



You must all know that Thomas the Tank Engine also has a special Train made up to look just like him

.

He comes to Llangollen a lot as well. I used to love the old steam engines, but it is 50 years since we had lots here in the UK. Diddily takes both of her dog;'s down are old railway track for their daily walk. Well they walk with her Peter while I ride on my posh wheelchair. It's a wee bit bumpy but it's a beautiful walk

...

/ ride (hehe)
This is what it looks like now, maybe not so green as this was taken a couple of years ago. It has all been relaid now, which I love because I missed going for my walks. Toby and Tilly had a wonderful day watching Ivor, there was even a little red dragon sitting in the back when the train was leaving. Of course Candy and Sweetie Pie wanted to go and sit on the back as well. But when Tilly explained that the Dragon was th
ere just incase the fire got too low in the boiler, and that it was the dragon that breathed out  fire to keep it going, they both decided to go along the river instead.
It was a beautiful walk. The river is full of big rocks that makes the water spash everywhere. though there were plenty of ducks; of all different colours begging for bread. What a noise they were making. Toby ran back to the Land Rover and brought back the crusts from their sandwiches. There wasn't many but they soon gobbled up what few there was.
It was getting late and time for them to return back to Ponty. Toby decided they would go home over the Horseshoe Pass, or Bwlch yr Nant, as it is called in Welsh.

So back to the Land Rover they went and it wasn't long till they were climbing up the winding road that was to take them home.Tilly was so pleased that she was on the inside, she couldn't believe how steep and deep it was.
Very slowly was the journey across the pass, but Toby had promised them a cup of tea in the Ponderosa Restaurant if they made it safely to the other side. Gosh there were so many motor bikes, all of them rumbling up the road towards the Ponderosa, here are some wonderful pictures that somebody took and put it on google to let us see.









   


           Look at those mountains. The road in the distance is the lower part of the pass.

"I really don't fancy them riding their bikes down the pass, but I really hope that they are not going to ride back up. oh dear me... dangerous that you know!" Poor Tilly as they rounded the quarry half way up the road. And it was just at that moment that some loose boulders began to slide onto the road itself. Toby was alright he had passed before they covered the road, but the bikers had to slam on their brakes.


"They were so lucky," Tilly kept saying as she sat in the Ponderosa eating her Welsh cake and sipping her tea. Toby was just lucky that no one was hurt and they were safe in the cafe. Candy and Sweetie were in the car but as soon as they had finished there tea. Toby took the dogs down the mountain a piece to have a quick toilet on the grass.

     
   It didn't take them that long to get back to Ponty and back to Toby's, Bucket and Tilly's Teapot.
 "Gosh it is wonderful to go out for the day."
said Toby. "Yes but it's great when you get back home."Tilly added.
"Come on let's go to your's and we'll take a look at your map book and see where we went again.
And together they went into the Bucket and they talked for ages about the wonderful day they had shared together.


POOR TI
LLY TEAPOT HAS CAUGHT A COLD!



The snow lay thick on the ground. Toby and Tilly had only been home from the Alps a week but already Toby was getting fed up with all the snow.
Tilly had got a cold and she couldn't go out, in fact doctor had come to visit her in the teapot.
Toby put a hot water bottle in her bed, and made her a hot drink of blackcurrent and lemon.

Can you see poor Tilly in bed, she is already warming her feet on the hot water bottle.
The Doctor said Tilly had a bad cold, but at least it wasn't flu, but she must still stay in bed for at least five days, when her tablets and medicine would be finished.

"Five whole days!" spluttered Toby, as he tidied around Tilly's bedroom for her before he took Candy and Sweetie Pie out for a walk.
Then making sure she didn't want anything else he took Sweetie Pie on her lead over to fetch Candy.
Shush now I thi
nk Tilly is going to sleep; we mustn't wake her up.
                            
  Before leaving for their walk Toby went back to his bucket-home to put on his warm coat and hat.
Then he put the little coats on Candy and Sweetie Pie and they were off to the park to feed the ducks.
Here they are just coming up to the park gate.
Look children, can you see the holly berries on the big holly tree?.

Toby! Can you see what the notice says?
 "KEEP DOGS ON LEADS."

Toby already knowshe must keep Candy and Sweetie Pie on their leads. If they didn't they might chase the ducks and the swans, and that wouldn't be good.


After feeding the ducks and swans and a few  wild sparrows and chaffinches Toby said it was to cold to stay out and so they all went back to see how Tilly was feeling.
However Tilly was still asleep so he took the dogs with him back to his home for a nice cup of tea and piece of cake.
And the Candy and Sweetie both had a nice big bone to gnaw on whilst they waited for Tilly to Wake up.



HI I'M TOBY BUCKET, I BET YOU'VE MISSED ME.


I do hope you have I have been away for quite a while, myself Tilly, and the two dogs well, we've had a good old time going here and there, and visiting this and that. Great fun. But now as you all know Christmas is not far away and we have all been wondering what we should do special for you all. Well not just all us, but, Diddily and Seligor had to help also.

Tilly and myself, we have been making most of the preparations between the pages, with having the balloon and the landrover, we were able to get in touch with most of your friends. Quite a few can't make the journey because they have to look after their own thing. Donna sends you all her love but she has three huge Christmas Parties planned. She will tell you all about them I'm sure. Dino has to stay to help for he is letting her use the bar for games and things. Sarah will be there but she is travelling her own  special way. Hmmm


Mallie-Ann  is hoping to make it, she is still not such if the Trow's and Brownies will keep their word and keep the Goblins away from the new batch of Peppermint Larks, being Scottish most of them like a wee dram and that doesn't go well with guarding the treasure and Gollie, Dalmy, Osito and the rest. We will have to keep our fingers crossed.

Of course there was no stopping Morrigan and Shadwell. The air balloon had only been on
the ground for three minutes, before Morrigan holding tight onto Shadwells green spikes that he called his hair. "We'll go, we'll go" said Shadwell, "Anything to get away from Lerwick for a few weeks, not saying it's the worse place to live - ( he was thinking back to the damn cat he'd left behind in Perth.)  The hair on his back still stood on end everytime he thought how close those claws cam to ripping his eyes out.

Peter and Precious, although they were still resting up in the hut down under with the penguins. Had been offered a lift up there by one of Santa's Helpers, they could go but onlu on condition that they returned to the south pole after Christmas. Of course they both agreed straight away better the Polar Bears than the stupid Penguins.

Jaimie was still up the Jungle and would be there till March, I think when the Monsoons were next due.So that ruled her out. Her sister Jody was also ruled out because she was at sea, looking out for some rogue Pirates that had been causing a lot of trouble out in the Spanish Maine, she was hoping to be home for New Year though.

Molly was already up there, it had always been one of her little jobs to help Santa tune all the instruments that had been ordered by the Children for Christmas. Kayleigh was up there with her. It was her wish to help Mrs Clause with the children, whilst Prudence helped with the reindeer. only seven pulled santa's sleigh but there were many many more reindeer for

all the other helpers. "It was easy when the world was small" Santa would say as he helped arrange the bells just so on the sleigh's. can't go driving shoddy sleighs now can we my little treasures." His little treasures as you might have guessed were all the wee fairies and elves that helped make all the special toys for the Children in Need. (Good old Terry Wogan. Ho! ho! ho!) he roars.

Goodness me will you have a look at the time, I will have to finish this letter tomorrow,
 bye for now. Toby xxxx .
Tower, Sand and Carousels

Toby and Tilly were up really early, Aunt Maud has come over from Manchester to take care of  Candy and Sweetie Pie.

Can you guess where it is Tilly and Toby are going?

Yes, that's right, they are going on the train to Blackpool for the
weekend.They are taking  Toby's tent with them and camping overnight.
Here they are, getting off the train. I wonder where they will go first.


Maybe down to the sands. I hope they build a sand castle.
Don't you?



Whilst they were paddling in the sea, Tilly saw a boat. Steam was coming from its funnel. When they went back to their buckets and spades the tide had washed the castle away.


Here they are eating hot dogs.
Toby had tomato ketchup on his.
Tilly had mustard. Yuck! Toby hates mustard.


After an ice lolly, they walked along the prom to the funfair
.
They went on so many rides but they both loved the Carousel best.

Soon it was time for them to go back to the tent. Toby had his red sleeping bag, and Tilly had her yellow one.


Shush now my children I think they are both fast asleep.
I wonder where they will be going tomorrow?


  Chester Zoo.

http://www.chesterzoo.org/
Explore the website to find out more…..and don't forget:
By supporting Chester Zoo you are directly contributing to our conservation work at home and abroad and helping us save species from extinction.

Thank you!


Were all going to the Zoo Tomorrow

Yes it is true, Toby and Tilly are off to the Zoo. 

They got up early, Toby made some beans on toast for them and away they went from Blackpool, all the way down to Chester on the train.

Would you believe it Toby has never been to the Zoo before. Not even when he was a little boy at School.
He was so excited. He made sure they had plenty of things to feed the animals with. Tilly said she didn't think they would be allowed though.
 (she was right, they couldn't give them their own food.)



The first place that they went to, was the monkey house.
Toby wasn't allowed to feed them, but it was their feeding time so the Zoo Keeper let them help him.
Can you see that naughty monkey it has pinched Toby's glasses.

Tilly was thirsty so they both went to the cafe for a cup of tea.
They also had  chips and sausage with a few beans. Toby didn't realise how hungry he was.



It was fun going around all the animals especially as the last place they went was to help feed the sealions before going home.




On the train back home. Tilly and Toby sang this song.
Can you sing it with them. I'm sure Mummy or Daddy know the tune it's about a fox.

And would you believe it when Toby and Tilly
 arrived home. 

Two other little animals were more than excited to see them both.

Can you tell me who they are please?


Chester Zoo.
http://www.chesterzoo.org/
Explore the website to find out more…..and don't forget:
By supporting Chester Zoo you are directly contributing to our conservation work at home and abroad and helping us save species from extinction.

Thank you!
Mind you these 15 videos are from Zoo's around the World.

  Going to the Zoo
(Tom Paxton)

Daddy's taking us to the zoo tomorrow,
Zoo tomorrow, zoo tomorrow;
Daddy's taking us to the zoo tomorrow,
And we can stay all day.



chorus:


 We're going to the zoo, zoo, zoo;
     How about you, you, you?
     You can come too, too, too;
     We're going to the zoo, zoo, zoo.

See the elephant with the long trunk swingin'
Great big ears and a long trunk swingin'
Snuffin' up peanuts with the long trunk swingin'
And we can stay all day.

See all the monkeys, they're a scritch-scritch-scratchin'
Jumping around and scritch-scritch-scratchin'
Hangin' by their long tails (scritch-scritch-scratchin')
And we can stay all day.

There's a big black bear, he's a huff-huff-puffin'
Coat's too heavy, he's a-huff-huff-puffin'
Don't get too near the huff-huff-puffin'
Or You won't stay all day.

Well the seals in the pool all honk honk honkin'
Catchin' the fish and honk honk honkin'
Little tiny seals all (high pitched) honk honk honkin'
And we can stay all day.

(slower) Well we stayed all day and I'm gettin' sleepy,
Sittin' on the train gettin' sleep sleep sleepy,
Home already and I'm sleep sleep sleepy,
And we have stayed all day.

     We've been to the zoo, zoo, zoo;
     How about you, you, you?
     You came too, too, too;
     We're been to the zoo, zoo, zoo.



Chorus:


Mommy's taking us to the zoo tomorrow,
Zoo tomorrow, zoo tomorrow;
Mommy's taking us to the zoo tomorrow,
And we can stay all day
Not quite sure what this was but there seems to be some wonderful colours about.
Can you tell me what the colours are?
Mr. Bucket

  Children have been playing with buckets for millenia.

But guess what. There was a new kid on the block.
It's was Mr. Bucket.
Earlier this evening, apropos of nothing, I began singing the Mr. Bucket theme song. Softly at first, but then louder, more confidently. The words were popping out of my mouth like balls.
It is a truly terrible toy. Essentially, children are cleaning. Chasing after little balls with pooper scoopers. And in a

particularly Sisyphean twist, just as one thinks her task is complete, the balls pop out of his mouth.
I know you remember this commercial. Even if, like me, you never played with or even saw Mr. Bucket in the flesh. What could make such a miserable toy so unforgettable? I'm convinced that it's the jingle. It's the sounds, not the images, of Mr Bucket that are forever etched in my mind. But what makes the Mr. Bucket jingle so
effective?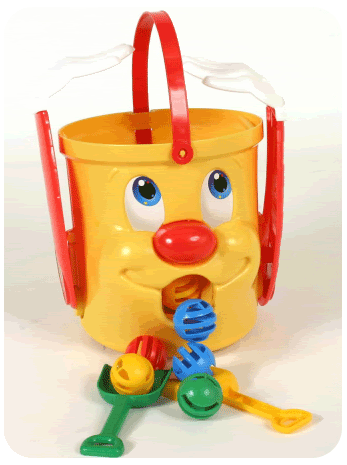 VERSE 1
I'm Mr. Bucket toss your balls in my top
I'm Mr. Bucket out of my mouth they will pop
CHORUS
 I'm Mr. Bucket!
We're all gonna run!
I'm Mr. Bucket!
Buckets of fun!
Announcer:

The game's Mr. Bucket! The first to get their balls into Mr. Bucket wins! But look out, the balls will pop out of his mouth!


That's right, I'm Mr. Bucket!

I'm Mr. Bucket! Toss your balls in my top
I'm Mr. Bucket! out of my mouth they will pop

I'm Mr. Bucket! We're all gonna run!
I'm Mr. Bucket! Buckets of fun!
VERSE 2
I'm Mr. Bucket, balls pop out of my mouth

I'm Mr. Bucket, a ball is what I'm about
CHORUS
I'm Mr. Bucket!
We're all gonna run!
I'm Mr. Bucket!
Buckets of fun!
What are some other jingles you've found to be particularly ???
One of my sons actually loved the jingle for Shake n Vac

AND CAN ANYONE STILL REMEMBER THE TUNE, OR EVEN THE ADVERT.
The Adventures of

Toby Bucket and Tilly Teapot.

 Here are a few of  my favourite 
Toby and Tilly
pictures taken from Google Images before we begin.

Hope you like them,
I wonder if you have a Toby or a Tilly?
Here is a little Rhyme I have just thought up.




 Tilly Pus Cat, how-do-you-do,
How-do-you-do, today?

Toby Pup Dog, how-do-you-do,
How-do-you-do, come out to play.

Let's chase our tail,
And howl and wail,

And wake the neighbours up.
Lets climb on trees,


And scratch our fleas,
And go find a brand new pup.