Ivan Sergeevich Turgenev (1818 - 1883)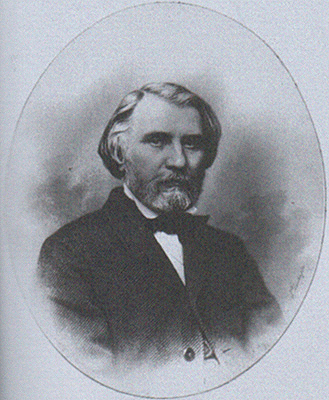 The Russian Writer Ivan Turgenev. A massive Russian resource on Turgenev with a section in English. Includes Turgenev's biography, translations and photographs.
Before I write this little tale, I wondered who the gentleman  who wrote it was, and I only had this information in my old books.
"The Dog and the Sparrow," by Ivan Tourgenieff.
But look at what I found out, he was a bit of a hero in the written word of Russia. Though the powers that were didn't think so at the time.
From the Archives of November 18th 1878, Wednesday.

SENILIA: PROSE POEMS BY IVAN TURGENIEFF.; 1878.--IN THE VILLAGE. THE OLD WOMAN. MY DOG. THE BEGGAR. A SELF-SATISFIED MAN. A RULE OF LIFE. THE END OF THE WORLD. MASCHA. THE BLOCKHEAD. AN EASTERN LEGEND. THE TWO QUATRAINS. THE SPARROW. THE SKULLS.
It is the last day of July; a thousand versts wide around is Russia--home. The whole heaven is a shadowless azure; only one solitary, tiny cloud floats therein, and melts away. Perfect calm, heat. An atmosphere like lukewarm milk....

Here is the little tale:-

"The Dog and the Sparrow,"
by Ivan Sergeevich Tourgenieff."


       I was on my way home from hunting, and was walking up the garden avenue. My dog was running on in front of me.
Suddenly he slackened his pace, and began to steal forward as though he had scented game ahead.
      I looked along the avenue; and I saw on the ground a young sparrow, its beak edged with yellow, and its head covered with soft down. It had fallen from the nest, due to a strong wind blowing and shaking the birch trees in the avenue; and there it sat and never stirred, except to stretch out its half grown wings in a helpless flutter.
      My dog was slowly approaching it, when suddenly, darting from the tree overhead, an old black-throated sparrow dropt like a stone right before his nose, and all rumpled and flustered, with a plaintiff desperate cry flung itself once, twice, at the open jaws with their great teeth.
    It would save its young one; it screened it with its own body; the tiny frame quivered with terror; the little cries grew wild and hoarse; it sank and died. It had sacrificed itself.
  What a huge monster the dog must have seemed to it! and yet it could not stay up there on its safe bough, A power stronger than its own will tore it away.
   My dog had stood still, and slunk back, away from the screeching bird. He too had felt that same power.  He came to me; and a feeling of pure reverence came over me as I passed on by.
No, don't laugh,  It really was reverence I felt before the heroic bird and the passionate outburst of its love. Such a feeling of extreme honor and respect for something or someone
.
   Love, I thought, is verily stronger than death and the terror of death. By love, only by love, is life sustained and moved.


"Oh my children such a sad little tale, but I think the little chick would have lived for the other parent sparrow would have fed it. This is why you must never move a young bird if you find one, for so long as the parents can hear the birds squawks, they will continue to feed it.

Here is also an archive from the same newspaper, noting Ivan Tourgenieff's death
"IVAN TURGENIEFF DEAD"; NOTABLE CAREER OF RUSSIA'S GREATEST NOVELIST. DYING IN FRANCE AFTER A LONG ILLNESS --THE PURPOSE OF HIS WORKS--A LIFELONG ENEMY OF DESPOTISM.

September 5, 1883, Wednesday
Ivan Turgenieff, the Russian novelist, died at Bongival, France, on Monday, after a long illness. The saying that Russia cannot produce more than one great man at a time in any department is not altogether just; but to many superficial observers....
Ivan Sergeyevich Turgenev
(1818-1883) This came from a Russian
news-report
Posted 19:06